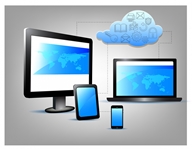 Google Workspace (formerly known as G suite) and Office 365 allow you to access and create documents and information quickly and easily, increase your productivity and assist you in collaborating with others. Because they are both cloud-based applications you can access the applications and your stored data from any location as long as you have access to the internet.
These online applications, which complement the existing services that we already have in place, allow you to
set up video conferencing with colleagues
collaborate on documents
store your data in a secure location
share access to online storage facilities and documentation
Office 365
Staff and students can install the Microsoft Office productivity suite (from the Office 365 site) onto a personally-owned computer, laptop or mobile device. You will have full access to Office 365 for free for as long as you are at UCT. Once you leave, you will only have read-only access to your Microsoft Office files unless you first download them to another device.
Google Workspace
Both staff and students have access to this range of online applications which is aimed at saving you time and keeping you connected whether you are on or off campus. This solution includes a productivity suite, similar to Microsoft Office, 10TB online storage as well as some powerful collaboration tools.