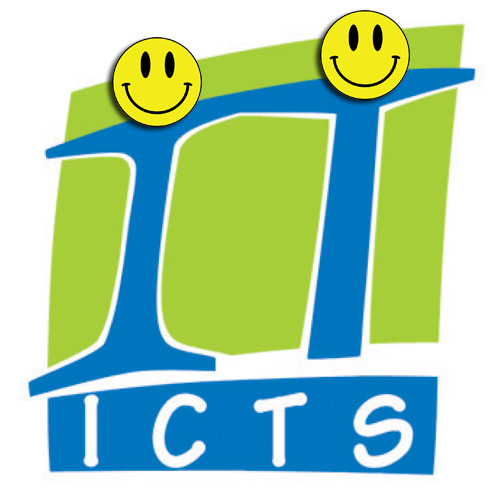 At the start of each year, ICTS selects several social responsibility initiatives that we will support during the year. Run by representatives from all ICTS divisions, fundraising activities are linked to fun events that help to bring the ICTS staff together. This includes selling cupcakes, stickers and badges, dressing up, and running competitions.
Owl House project
We continued 2018's plastic collection project, in our effort to help the war against plastic pollution. This is an ongoing project, and we hope to purchase and install our very own Owl House in 2020.
Autism Awareness Month
To honour World Autism Month in April, we raised funds for the Vera School for Autistic Learners. Our initiatives – which raised over R5000 for the school – included auctioning off a HiFi, along with Blue Friday – in which we sold hand-painted Autism Awareness coasters.
We visited the school and interacted with the kids, while also sending out regular communication shedding more light on autism and the organisations that work in the field.
ICTS Pawsome Pet Drive
We ran a Pet Drive to collect donations (in cash and kind) for our furry, scaly, and feathered friends being taken care of by the Animal Welfare Society of South Africa located in Philippi. A range of dog and cat food, as well as feeding bowls, was delivered to the organisation in December - just in time for the festive season, when animal organisations are under increased pressure to care for lost, abandoned, and injured pets.
We also raised nearly R2000 in cash from our very popular bake sale on World Animal Day.
Festive swag bags
As our final initiative for 2018, we opted to make festive kiddies's swag bags. ICTS staff were asked to donate toothpaste, toothbrushes, facecloths, soap, crayons, toys (e.g. tennis ball, bubbles, skipping rope, play dough, slinky spring), chip strips, and small bags of sweets (jelly babies, wine gums, jelly tots, etc.).
In just 10 days, ICTS staff generously donated over 500 items as well as made monetary donations, which resulted in 62 complete festive swag bags. The bags together with additional donations will be handed over to Little Lambs, which is an NPO that distributes goodies to children living in Du Noon.
ICTS Pink Drive
In honour of Breast Cancer Awareness Month, ICTS ran a Pink Drive in October. During this month, we collected funds for two participating organisations: Pink Drive, and CANSA. Over a limited period, staff could donate to their managers' collection jars. The top team won a free lunch from ICTS, while the top three managers had to dress up as a superhero, wear pyjamas to work, or have their team spray their hair a different colour. To boost the fundraising efforts, we also sold pink ribbons and cupcakes. In total, ICTS staff raised close to R5,000.
Each year, our oceans are being filled with millions of tons of plastic. To help make a small difference in the war against pollution, ICTS ran an initiative to collect plastic which was recycled and used to build conservation products. Over an extended period, staff brought in clean plastic (bottles, packaging, containers, straws, plastic bags, etc) which was then used in the Owl Rescue Centre's Owl House Project.
Children's Hospital crayon collection
The Red Cross Children's Hospital is a second home to many young children suffering from an array of serious health issues. To help make their time in hospital a little more fun, ICTS staff collected colouring books and crayons to the value of R2000 – which we handed over during a visit to the kids.
Mandela Day
Following the crayon collection for the Children's Hospital, ICTS ran a successful Mandela Day initiative at the same location. However, instead of packing in 67 minutes on one day, the campaign was spread across an entire month – where ICTS staff members visited and spent time playing with the kids. Many of the children at Red Cross don't have family or friends who are able to visit them regularly, so during this month, ICTS staff were able to consistently provide them with companionship for a short while – reading to them, helping them colour in, and playing games with them.
IT training for non-profit organisations
Similar to the 2015 training initiative, ICTS trainers again provided hands-on IT training for workers from various non-profit organisations – including the Department of Child and Adolescent Health, Friends of the Children's Hospital Association (FOCHA) and Islamic Relief. The training, which included critical skills in IT literacy and MS Office, was well received and has had a positive impact on the work of those who attended.
Operation Smile
The Smile Foundation helps to organise free corrective surgery for kids with facial abnormalities. ICTS staff sold badges and cupcakes and ran a hugely successful 'Guess the baby' photo competition to raise R1500 for this noble cause.
IT training for NGOs
The Goedgedacht Trust and Mustadafin Foundation are two local NGOs that provide vital support to rural and impoverished communities. Recognising a need for hands-on IT training, the ICTS trainers hosted two weekend workshops to equip their volunteers and school teachers with critical skills in IT literacy and MS Office. The participants thoroughly enjoyed the training and were eager to learn even more at a later stage.
Dassenberg Horse Rescue Centre
The Dassenberg Horse Rescue Centre cares for abused and abandoned horses (and other animals). ICTS sold purple ribbons and collected donations amounting to R700, which were used to buy bales of hay for the horses and dog food for the rescued dogs that the centre also looks after.