Microsoft has confirmed that the issue causing random Outlook security certificate warnings has been resolved.
You should no longer see such warnings when opening emails or calendar appointments in Outlook.
Previous notice: 2.11 p.m. on 8th December 2021
ICTS is aware of an issue relating to security certificates in Microsoft Outlook. For certain emails and calendar appointments, you may receive a security alert indicating that there's an issue with the security certificate: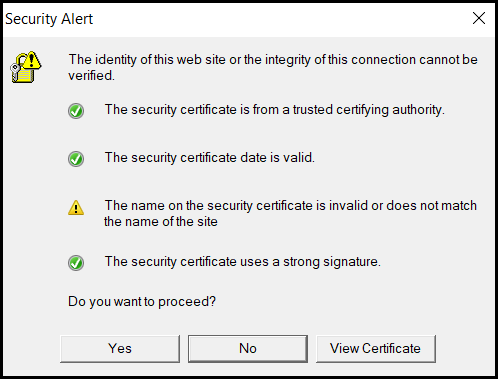 This message appears randomly and may persist on a specific email or appointment in your calendar.
What do I need to do?
If you are experiencing this issue, when the alert comes up, please do not click Yes or No. Instead, move the window out of the way and continue working on the item.
If you have already clicked Yes or No, do not be concerned. This is a system issue on Microsoft's side, and your security has not been compromised.
ICTS is working with Microsoft to resolve this, but in the interim, we ask that you simply ignore such messages.