Technology is constantly evolving and has resulted in an increase in workloads as we are now able to do more digitally.  Knowing that a large proportion of the world uses their products, Microsoft is constantly introducing new features to help you manage your tasks more efficiently no matter where you are.
Daily briefing email
The Cortana briefing email feature is like your personal digital assistant as it aims to help you better manage your daily productivity. Some people only get a handle of emails daily, while others get hundreds that they need to respond to or action. Cortana was developed to help take the pressure off you in trying to remember everything you need to do. It scans your Outlook mailbox and calendar and creates a list of actions that you communicated about via email as well as requests that you need to complete. It also recommends focus times, which you can click Book to insert in your calendar.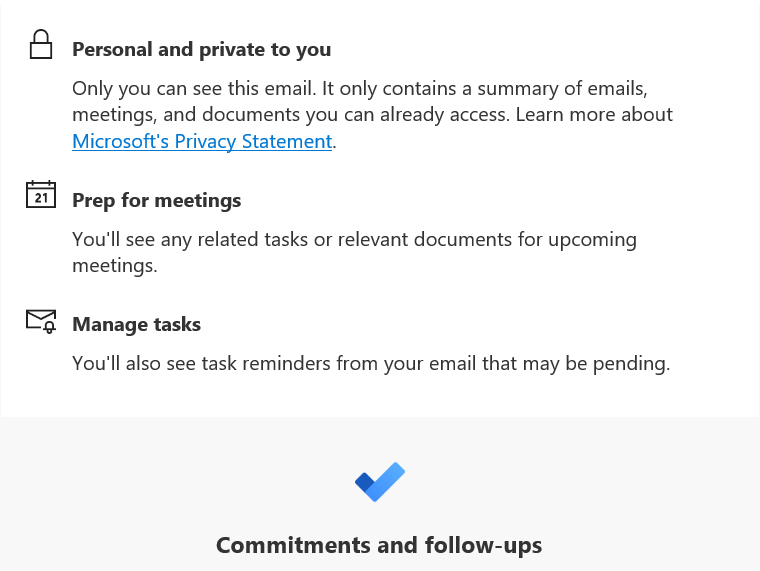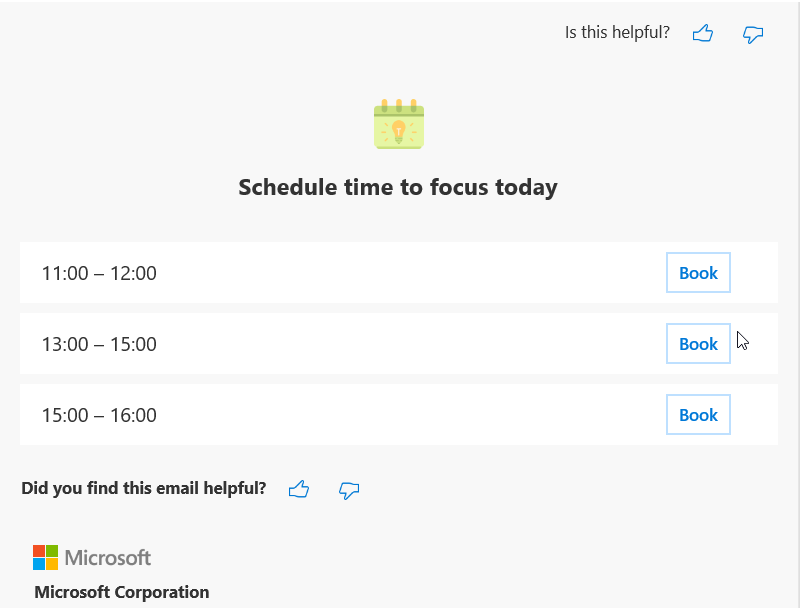 Every morning you will receive an email from Cortana that contains commitments and follow-ups. You can either click Done if you've completed this task or indicate that it is Not a task. If you would prefer not to use this feature, you can unsubscribe at https://cortana.office.com, or by clicking the Unsubscribe button at the bottom of these emails.
View these FAQs more information about this feature.
MyAnalytics tracks your workday
With Cortana keeping your email under control, MyAnalytics tracks your monthly digital performance. It provides summaries of how long you spend in meetings, email, and work after hours. It also lists the people that you collaborate with.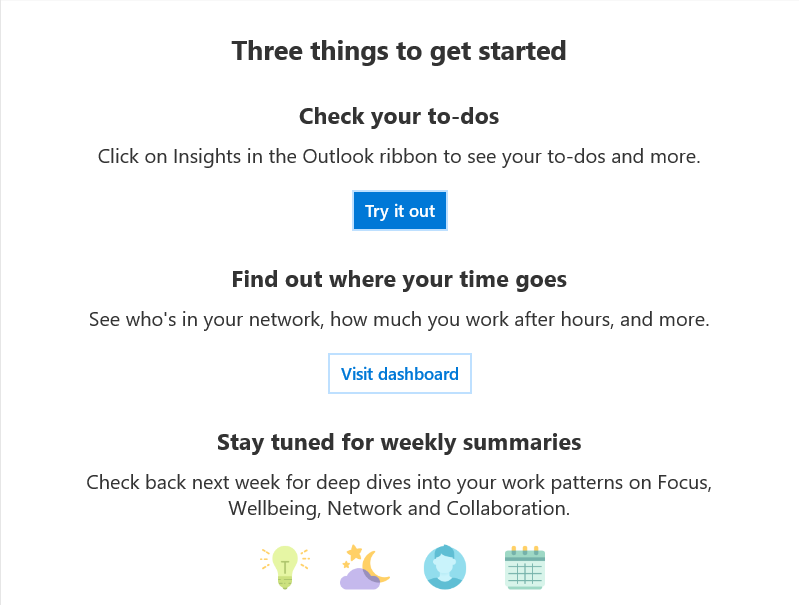 The Collaboration edition provides a monthly overview of how you connected with colleagues. It tells you what percentage of your collaboration time was spent sending emails, creating and attending meetings as well as calls and chats you had.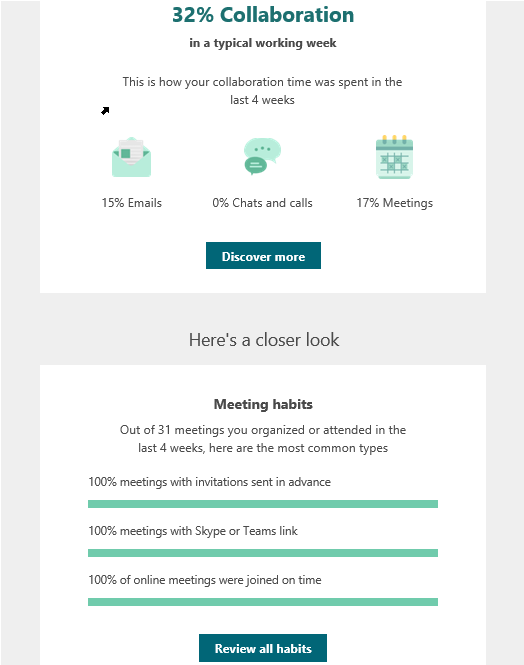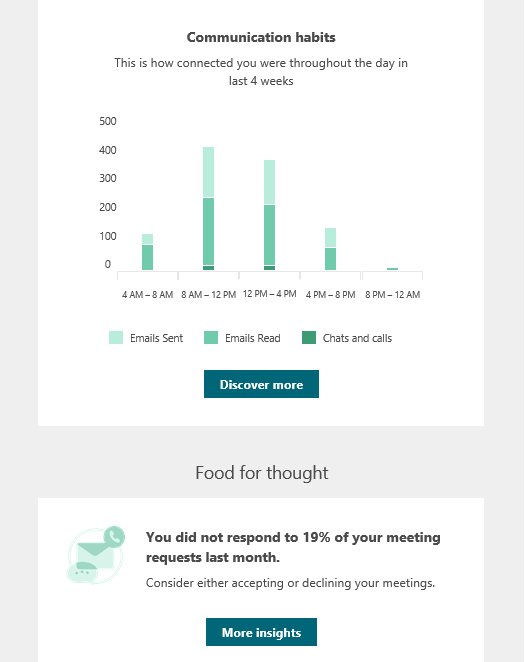 It also lists meeting habits and provides a graphic of what times you mainly contact people.
This summary is usually sent towards the end of the month, while the Network edition is sent in the third week of the month.
This edition highlights your network and lists new people that you've collaborated with, who your top collaborators are, and the amount of time spent with them. It even makes suggestions on which contacts should be marked as important so that you don't miss any communication from them.
Sent midmonth, the Wellbeing edition looks at how many quiet days you had. Quiet days are considered time outside the working hours set in your Outlook calendar where you email, chat or meet. It also makes recommendations on how to reduce the amount of time you spend working after hours.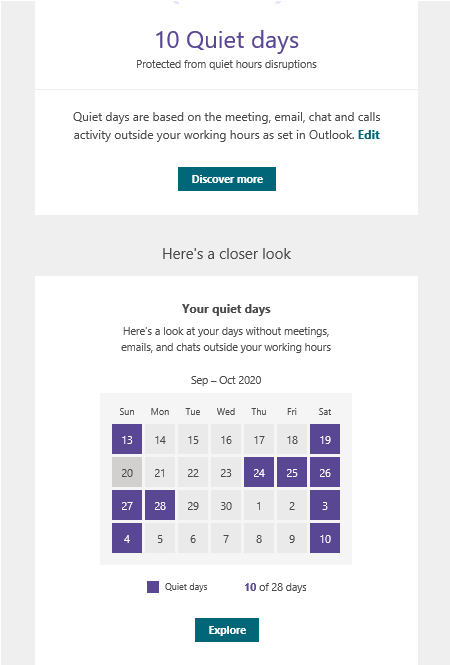 The Focus edition, which is sent during the first week of the month, compares how much time you could focus in comparison to how much time you spent collaborating. To assist you in making focus time a priority, you can automatically block up to two hours of your time to complete tasks. It makes suggestions on recommended time slots you could consider as well as how to optimise your time when checking your mailbox.
Each edition provides an update on the amount of time you had available to focus, how much time you spent collaborating and the number of quiet days you had.
For those on Windows 10, your recent activity is stored on the device you're using, allowing you to quickly see what documents you worked on and which websites you browsed. If you're signed in with your Office 365 account on your device and allow Microsoft permission to track your activity, it automatically saves this information for you and includes it in the MyAnalytics report. Online activity is, however, not reported on when using Microsoft Edge InPrivate tabs.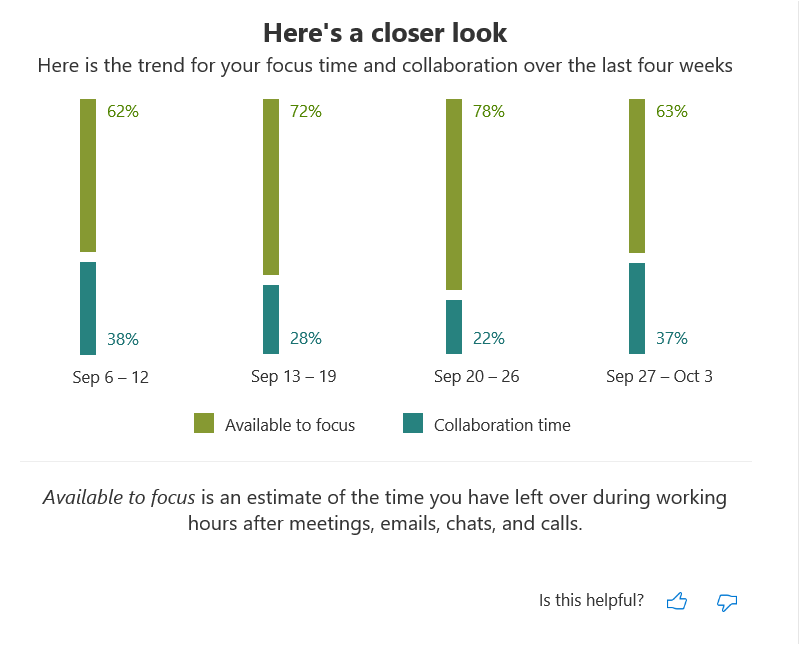 Microsoft has indicated that both Cortana and MyAnalytics comply with privacy guidelines and regulations and protects each individual's privacy.
No one else at UCT can see these customised emails unless you choose to share it. These offerings therefore do not follow the same route as other productivity apps where you are encouraged to collaborate and engage; instead it is generated specifically for you. All the data used comes directly from your mailbox including information that you send and receive, meeting habits, and collaboration methods.
Your privacy is Microsoft's top priority. These are just a few of the things that Microsoft has stated that they will comply to in relation to your exchange online mailbox (i.e. your UCT or myUCT mailbox):
not mine data for advertising
not voluntarily disclose information in your UCT mailbox to law enforcement agencies
meet all data encryption requirements
implement controls to limit security incidents
inform users of a data breaches
View the MyAnalytics privacy guide for a detailed over of what steps are being taken to ensure your privacy is protected.
Microsoft simplifying the way we work
These are just some of Microsoft's latest innovations to help you better manage your productivity and make the most of your workday. See just how effectively it can work for you.