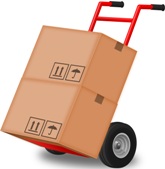 It is likely that while working at UCT you may be required to move to a new desk, different office or an entirely new building. This can be quite a daunting process especially when it involves moving all your equipment from one location to another.
The IT Helpdesk regularly receives requests to move computer equipment. Unfortunately, ICTS is not responsible for moving computer equipment between buildings, to different locations in the same building or from desk to desk. ICTS only provides assistance with reconnecting the equipment once it has been unpacked at the new location. You will, however, need to log a call to request assistance with reconnecting your equipment.
When moving to any new location at UCT, you can contact the Properties and Services (P&S) Helpdesk to provide assistance.
In the case of major moves (from building to building), Properties and Services will arrange for outside contractors to move the required computer equipment (if that department does not have the necessary human resources to do so themselves).
When moving from desk to desk, you must move your own computer equipment and only log a call with the IT Helpdesk should you experience any problems with reconnecting your equipment. This call will be scheduled and will not necessarily be dealt with as a high priority.
Things to consider when moving
Update department/faculty information in White Pages
The UCT White Pages is a web-based application which accesses a centralised repository of contact information for all UCT staff members. This platform allows you to search for people by department, faculty, first name and surname.
Each staff member can update their personal details, while directory managers have been nominated to keep their faculty or department's information updated. View the White Pages web article for more information about this system and how to use it.
SAP R/3
When moving to a new office location, you may need to change the default delivery address for your department or faculty. Log a call with the IT Helpdesk, and complete the SAP05 form.
Network infratructure
Additional network points may need to be installed for workstations or network printers. Log a call with the IT Helpdesk to have the new points installed before the move takes place.
Lab administrators of ICTS-managed student labs and lab owners of non-ICTS managed student labs must arrange with Properties and Services to move their computer equipment. ICTS will only assist with reconnecting the moved computer equipment once the lab administrator/owner has logged a call with the IT Helpdesk. The call must be logged prior to the the move taking place.
NOTE: The lab or faculty owner must pay for the computer equipment move and all associated costs.