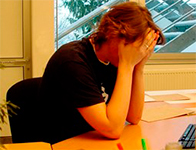 Sally beamed with delight as she opened the box and tore the wrappings off her brand new flatscreen TV – a gift from her family up north. She heaved the old TV onto the couch, placed the new one where it had been, and started to set it up.
She spared a glance for her old TV – it was in very good condition, still working fine, and she had the instruction manuals and accessories for it in a little box under her bed.
"Hmm," she thought, "I'm sure I could get a couple of hundred bucks for this on Gumtree…that would be a real treat."
She snapped a couple of pictures of the old TV. She logged onto Gumtree and chewed on the end of her pen as she thought about what to say. She started to type:
"Second-hand TV, 60cm screen in perfect working condition. Only 4 years old. R600 or nearest offer. Call Sally at 0854447965 or email sallybee@gmail.com"
She posted the ad and at around 8.30, a nice-sounding man called Samuel phoned up to say he would happily pay the full price, and wanted to come and fetch the TV in 30 minutes.
Sally was delighted. She had never thought it would sell this quickly, so she agreed immediately.
"Please just confirm your cell number and banking details with me to be sure," Samuel said, "and I will transfer the money directly. Also, please give me your address so I can come and pick up the TV."
"No problem," she said, and rattled off her banking details and address.
Sure enough, within 10 minutes, she received an SMS on her phone to say that the money had been transferred into her bank account. She sat and waited for the doorbell, dreaming of what she would buy the next day.
The doorbell sounded 25 minutes later. She raced down the hall and looked through the peephole. There stood a youngish man of about 30, with an older companion – presumably someone who he had brought to help him carry the TV.
"Samuel?" she said.
"That's me," he replied, "and this is my brother Joseph – he will help me to carry the set."
She opened the door, grinning. "Come through, it's just this way."
They gathered round the TV in the lounge and before the men stooped to pick it up, they shook hands with her and thanked her. She thanked them in turn for the money, and slowly showed them out as they manoeuvred the set through the narrow passageway.
The next morning, she walked the few hundred metres down to the shops. She crossed the street and went into a clothing store – where she saw her dream jeans hanging up at the back. She went over, picked out her size, and went to try them on. They fitted perfectly!
She took them to the cashier and whipped out her debit card. The cashier swiped it and waited. Nothing happened. Sally looked nervously at the Speedpoint machine, and breathed a sigh of relief as something began to print. The cashier tore it off and looked at it.
"I'm sorry," she said, "it's been declined."
"That's not possible," said Sally, "I was just paid R600 last night. Please try it again."
The cashier swiped the card again and waited for the receipt. Again, she tore it off and showed it to Sally – shaking her head sympathetically.
Sally was gutted "I don't understand," she said, "It says the money was deposited."
"I think you should talk to your bank, dear," said the cashier.
Blinking, Sally thanked her and walked out. The bank was just down the road and she decided to find out what was going on. With a leaden feeling, she pushed open the door and went in. Fortunately there were not too many people around at this time of day, and after a short wait in the enquiries queue, she sat down opposite a plump woman with dyed red hair and a name badge, bearing the name 'Colleen'.
She explained what had happened at the shop and that she had received a payment last night – complete with an SMS confirming it.
"Alright, dear, not to worry," said Colleen. "Let's just check your balance, shall we?"
She took Sally's card and typed the details into her computer. She looked thoughtfully at the screen and said: "Nope, I'm afraid there was no payment into this account last night; your balance is still R112.34". "But look here," said Sally, getting out her phone and scrolling through to the SMS. "It says you've paid me."
"Hmm," Colleen said, "It does look genuine. Let me call the manager."
She placed a call and the manager came over. They exchanged a few words and he looked at the message on the phone.
"I have heard of this ma'am," he said – his brow furrowing. "I think you may be the victim of a banking scam. If you would just come to my office, we'll call the fraud division and confirm that no money was transferred, and register the incoming number and message with them."
He took her into his office and made the call. After several minutes of conversation, he put the phone down and looked at her sombrely.
"I'm afraid the SMS was a fake, Sally. The men you dealt with generated it to fool you into parting with your goods. I'm sorry, but unfortunately we can't do anything to help you. I'd suggest reporting this to the police, and giving them a copy of the SMS, along with descriptions of the men."
"It's OK," said Sally, tearing up again, "it's not your fault. Thanks for all your help."
She left the bank feeling thoroughly miserable and walked up to the Rondebosch police station. She explained the situation to the sergeant on duty, and he called through one of the detectives. After a long chat, she had cheered up somewhat and had an appointment to see a sketch artist the following day. The detective explained that her cell number and banking details had been used to generate a fake SMS – almost indistinguishable from a genuine payment notification. He said that it was difficult to catch criminals like these, but he'd escalate the matter to Cyber Crime Unit and the Commercial Crimes branch. In future, he told her, always log on to your bank's website and check that the money is really there, even if it means you have to wait a couple of days for it to clear.