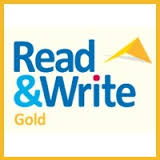 A Customisable Toolbar: Provides reading, writing, studying, and research support tools within familiar applications.


Support for Google Docs: Support tools including text-to-speech, spell checker, text and picture dictionaries, word prediction, study skills, vocabulary, and more


Support for Chrome and Firefox: Accessibility support includes: read the web, screenshot reader, text and picture dictionaries, translator, and more.


Word Bank: Access the Word Bank with over 1 million of the most common English phrases and more than 150 subject-specific word banks. You can create custom word banks and add words to the prediction database.


Voice Note: You can record a voice note and insert it directly into a Word document.


Text to Speech: Reads text aloud with dual colour highlighting.


Screenshot Reader: Reads aloud inaccessible text, including text embedded within an image or Flash, locked PDFs, or online applications. Text can even be exported directly into Word or Pages document.


Phonetic Spell Checker: Analyses and returns suggestions with definitions; Phonetic spelling, flexible spelling, and mirror letter errors are identified.


Talking Dictionary: Provides definitions as well as alternative words to help expand vocabulary and improve reading comprehension. Basic, advances and online dictionaries support writing skills. Google dictionary is the default dictionary


Picture Dictionary: Displays images for selected words. Users can get a visual image to better understand a words meaning.


Sounds Like and Confusable Words Checker: Identifies words that sound the same but are spelled differently or words that are commonly confused. Display alternate choices and definitions.


Verb Checker: Helps determine verb conjugation. Once past, present, or future tense is selected, multiple conjugations are provided.


Talking Calculator: Provides the most common functions associated with a Simple or Scientific Calculator; provides an audit trail that shows calculations as they progress..


Screen Masking: Tints the screen using colours, like an overlay, helping users who have trouble focusing on the screen by masking out active/non-active parts of the screen.


Speech Input: Converts speech to text to be read aloud.


Online Translator: Translates into multiple languages and speaks the translation aloud while highlighting.


PDF Aloud: Speech-enables PDF files with dual colour highlighting support.


Study Skills Tools: Highlights and extracts text from any document or website to create study guides, outlines, etc. Collect highlighted text with bibliography information and export into a Word, Google, or Pages document.