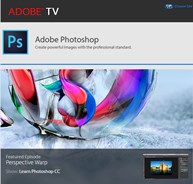 Adobe TV has the online resources you need to improve your Photoshop, Acrobat, InDesign and Dreamweaver skills. Whether you're a beginner or an expert in using Adobe products the online TV network offers how-to training videos, useful tips and tricks, the latest information on Adobe products and services and ideas on what other Adobe users are doing.
You can either watch episodes online or save them to your computer using the Adobe Media Player software. Adobe TV also gives you the option to share and post videos on your blog.
Adobe products are widely used by a variety of audiences. Content is divided up into channels for photographers, designers, video professionals and developers - making it easier for you to find the information you need.