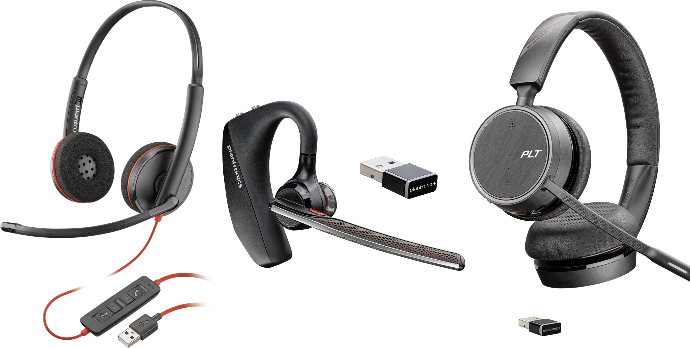 The world is moving further into the digital space, and online interactions are becoming more common. While your laptop or computer's internal microphone and speakers allow for a low-level quality of interaction, for more serious communication, it's important to use a headset so that you can hear clearly and that your voice is projected perfectly to your audience.
Whether you're teaching via live or recorded sessions, holding online meetings with colleagues, or just having regular conversations via Skype for Business, Microsoft Teams, or other platforms, a good headset is essential.
Factors to consider when choosing a headset
Before purchasing a headset, you should consider various factors, including:
the privacy of your office environment,
the noise factor in your office,
the number of calls you make and receive, and
whether you're office-bound or travel regularly.
After taking these factors into account, decide which features you need in a headset:
Headset feature
Description
Noise-cancellation mic
This feature cancels out any noises that may otherwise disturb your calls. It's ideal for open plan offices and noisy areas.
Bluetooth or wireless

This headset is ideal if you're often away from your desk but need still to make and receive calls. Bear in mind that the headset operates on battery power, so it's best to choose a model that offers at least 10 hours of talk time.

For Bluetooth headsets, if you'll be using the headset outside, the headset should be rated for outdoor use. This will cancel out wind, traffic and any other outdoor noises.

Wired or USB
This headset is ideal if you're desk-bound and make or receive a lot of calls. It's generally more comfortable than a Bluetooth headset – especially when using it for extended periods of time.
Mono or single speaker headset
This headset contains just one speaker, so you can keep it on even when having a face-to-face conversation with someone in your office.
You can purchase the following headset models from ICTS:
| Model | Channels | Wireless? | Noise cancellation? | Outdoor use? | Talk time | Notes |
| --- | --- | --- | --- | --- | --- | --- |
| Blackwire 3200 series | 1 (Mono) or 2 (Stereo) | No | Yes | No | N/A – operates via laptop / computer power |   |
| Blackwire 5200 series | 1 (Mono) or 2 (Stereo) | No | Yes | No | N/A – operates via laptop / computer power |   |
| Voyager Focus UC | 2 (Stereo) | Yes | Yes | No | Talk time: Up to 12 hours (10 with Active Noise Cancellation on) Listening time: Up to 15 hours (12 with Active Noise Cancellation on) | Immersive experience |
| Voyager 4200 UC | 1 (Mono) or 2 (Stereo) | Yes | Yes | No | Up to 12 hours talk time and 15 hours listening time | Full length Microphone boom. Skype for Business and Open Office Certified. |
| Voyager 5200 UC | 1 (Mono) | Yes | Yes | Yes | Up to 7 hours, with up to 9 days standby time | WindSmart technology |
Due to fluctuating exchange rates and other factors, prices change regularly – but UCT does receive preferential pricing on these items. To check the current price of a specific model, please use the process outlined below.
To request a quote or make a purchase, log a call via the Service Catalogue. In your request, provide the following information:
The cost centre and fund number to be used for the purchase. (You'll need permission from your fund holder to use the fund.) 
Whether or not you'll require delivery and installation.