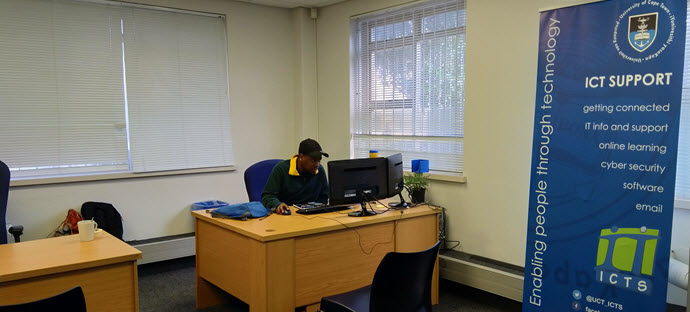 To assist you with ICT-related issues, ICTS operates a Front Office in the Computer Science building on Upper Campus. For those on lower campus, there is a walk-in centre at our offices in Mowbray.
Location
Room 1.10; ICTS-on-Main; 7 Main Road, Mowbray (see directions)  
Operating hours
Monday to Friday; 8:00 a.m. – 4:30 p.m. (closes 3:15 p.m. on Thursdays)  
Who can use the service?
UCT staff members, students, and third parties  
Where do I park?
There are no visitors parking bays on the premises. Please use off-street parking, or the UCT reserved bays in the parking lot above the Shoprite building (on the corner of Main Road and Rhodes Avenue).  
Services offered
Assistance with changing your password
Installing anti-virus software
Setting up wireless connections on laptops and mobile devices
Troubleshooting and other basic support requests
NOTE:
We do not offer assistance with hardware issues for personally-owned devices. For help with this, please contact your vendor / manufacturer, or a computer repair outlet.
We look forward to assisting you at our new centre.