If you are planning on taking leave over this coming vac, we wish you a safe and restful break. We look forward to working with you again next semester.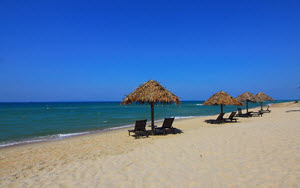 Here are some tips to make your first few days back at work as trouble-free as possible.
Back up your data
Do one final backup before you go on leave and store it in a safe place, preferably away from your office. Then you can rest easy. Don't panic if you've never done a backup before. Read our article on backing up your data in five easy steps.
Take care of email before you go on leave
Remember to set up your Out of Office notification in Outlook for the time period you will be away.
If someone else needs to access your incoming emails while you are away, instead of giving them your password, rather set up mail rules to move particular messages to a folder that you then share with your colleague(s). 
While on leave, you can either access your mailbox via the Outlook Web App or you can set up your mobile device to connect to Microsoft Exchange.
We do not recommend forwarding your messages to another account. However, if you decide to forward your messages, please be careful as mail bounces could occur during the forwarding process:

Check that the destination mailbox address is typed correctly.
Ensure that the mailbox you are forwarding your messages to has sufficient space to receive all your messages.
Test your forwarding rules before going on leave.
Manage your own password
It's easy to forget your password once you return to work after a long, relaxing holiday. Before you leave, make sure that you're set up on Password Self-Service. That way, if you forget your password when you get back, you can easily reset it yourself.
Importantly, if you have changed your mobile number or non-UCT email address since you last logged into Password Self-Service, please update these details in the portal IMMEDIATELY so that you don't face difficulties when you return after your break.
Don't get locked out of your account
Multi-factor authentication (MFA) adds an extra layer of protection to your UCT account. However, if you change your phone number or get a new phone, you'll need to update your MFA details so that you can continue to authenticate. This gives you continued access to your UCT email and other crucial services. Find out how to update these details in our MFA setup article.
If you're using the authentication app, we highly recommend adding your phone number as a backup option, because if you experience unexpected issues with the app – e.g., you accidentally delete it – you will not be able to set it up again yourself (as you won't be able to authenticate). You will then need to contact the IT Helpdesk (during office hours) and verify your identity before the issue can be resolved. Adding your phone number bypasses this hassle, as you can simply authenticate via the SMS code sent to your number.