Terms and conditions of the ICTS Website Launch competition
Competition period: The competition will run from 6 – 24 March 2017.
Eligible participants:

Only current, registered UCT students and currently-employed UCT staff members are eligible to win the prizes.
Employees of the ICTS Communications and Training team may not enter the competition or win the prizes.

How to enter: To participate in the competition, participants need to enter in one or both of the following ways:
1. Golden egg:
Send us a private message telling us your student or staff number and the URL of the page where you found the egg.
Visit our Facebook page and if you haven't already done so, Like it.
Find a 'golden egg' on our website. A golden egg consists of a clearly marked image of a golden egg, inviting participants to enter the competition.
OR, if you are not on Facebook:
Email the URL of the page, plus your student or staff number to icts-feedback@uct.ac.za, using the subject line 'Website launch'.
 
(NOTE: this egg does not count toward the competition).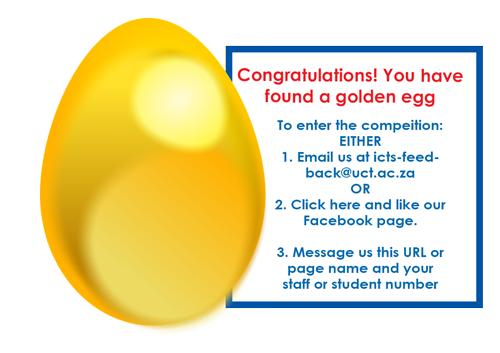 2. Answer a question:
Visit our Facebook page, and if you haven't already done so, Like it.
Find one of 4 ICTS website launch competition posts (it will be identified with the hashtag #weblaunch).
Like the post and share it (by tagging at least one of your friends).
Send us a private message giving us your staff or student number, along with the answer to the question in the post .
Prizes:

 The prizes for the competition are as follows:

a Targus laptop bag,
an iPod shuffle,
a Bluetooth surround sound speaker,
a Toshiba 320GB external hard drive,
Logitech wireless mouses,
A 2GB MP4 player, and
2 8GB flash drives
1 8GB flash drive
1 4GB flash drive.

Prizes are limited to one per person.
The prizes are non-transferable and there is no cash alternative.
Winners will be randomly drawn.
Winners will be contacted via Facebook and their UCT email address.
If a prize is not claimed within 30 days of the prize-winner being announced, the winner forfeits the prize.

When collecting the prize, the winner must produce a valid means of identification: their UCT staff / student card, along with their passport, driver's licence or ID book.
Falsified or duplicate entries will not be considered.
ICTS reserves the right to disqualify your entry if there are reasonable grounds to believe that you have breached any of these rules.
In the case of any disputes regarding these rules, the decision of ICTS will be final and binding, and no correspondence will be entered into.
ICTS reserves the right to alter, amend or close the competition as necessary.